One month. One sketchbook. Two burnt feet.
If you look at my observational work from the past year, I predominantly used Pen - the idea being that, "If I want to be an animator, I
have
to do quick, gestural drawings ".... and Pen was the medium that I found suited this train of thought. But there were times when it wasn't the medium for what I wanted to draw, but I used it none the less and got frustrated with the results... even more so of late.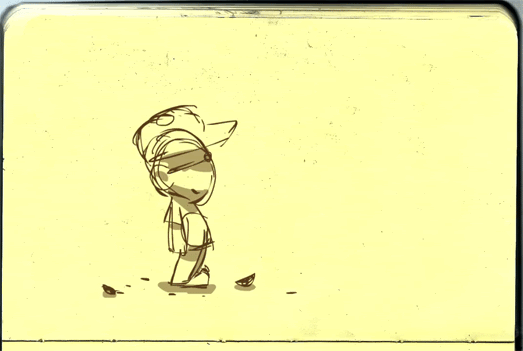 (Just for fun - I would've liked to have gone into this properly... but Gouken was like, "what about meeeee!?")
......
I spent a few days away with some friends (who also happen to be very talented artists), and it was during this time away that I was lent a 5B pencil. Unlike an HB, it was sooo refreshing to sketch with - I couldn't stop using it - drawing anything, anywhere, anytime.... Sketching suddenly became new again and it was no longer about the results I thought an animator
should
get, it was just about enjoying drawing, capturing the moment I was in, and discovering the world around me....
...So thank you.
Since then, I went into a Virgin Store (in France they have lots of stationary), and I couldn't see where the individual pencils were, so I asked an assistant if they had 5Bs..... he said there was no such thing - that they didn't exist 0_0 "err, yes they exist" I replied in a, '
you gotta be trolling me
' manner. He very seriously took me to the pencils and showed me they had 2B, 4B and 6B, but never had they seen/stocked a 3, 5 or higher than 6..... 0_0
So I bought a 4 and 6 in a compromise :D
Next post - PROJECT_GOUKEN!!
And a word of advice - don't forget to apply suncream to your feet if wearing flip-flops... Red V's on your feet are NOT cool, contrary to what anyone says.
'Till the Next,
L
p.s EVO2K11 SSFIVAE Poongko Vs Daigo = HYPE